Personally, I love summer and wish it could be warm year-round.  One of the benefits to living in Southern California is that we actually get to have summer weather almost all year.  I love it!  (Fun fact: I'm such a weather wimp I complain when it's in the low 60's 😀 ) Unfortunately, life wasn't always so cushy.  There was a time when we lived in the Midwest and I had to deal with ACTUAL winter.  I'm talkin' full on snow boots, parkas that looked like sleeping bags, layers upon layers of clothes and snow shoveling.  That's right, this gal would wake up at 4:30 am and SHOVEL our super long driveway just to leave in the morning.  It was awful.*  When I lived in Wisconsin, the locals would tell me they loved experiencing the four seasons and would miss snow if it didn't come every winter.  This always left me baffled.  Granted, I was a 'Sconnie for less than three years, so I'm sure I might have acclimated with more time, but you gotta have a pretty strong argument to convince me I'd actually miss the snow.  But I am a coastal California girl, so weather extremes have never been my thing.
So, with summer inching closer it's time to add some lighter fare to the Smith family meal rotation.  In the summer, I love making food that's light, refreshing and easy to whip up.  These cabbage cups are all that and more!  I love replacing traditional tortillas with cabbage when I'm making tacos.  The cabbage is often much sturdier than a tortilla (especially compared to corn tortillas) and will pair with any filling you put in it.  The filling in these cabbage cups are so flavorful and have almost a meaty texture.  With a drizzle of my Chipotle Aoili, everything comes together in the most wonderful way.  Truly a great summertime (or anytime) dish 🙂
*When people ask how we liked the Midwest, Brady and I always tell them we loved everything about it EXCEPT the weather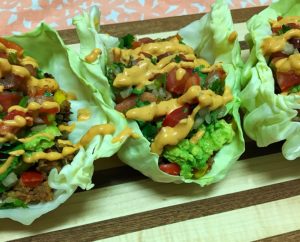 Ingredients:
1 cup cooked quinoa

1 white or yellow onion

1 red bell pepper

1 poblano pepper

1 can corn, drained and rinsed

1 can pinto beans, drained but not rinsed
1 can black beans, drained but not rinsed

½ tbs nutritional yeast

1 tsp garlic powder

1 tsp chili powder

1 tsp cumin

1 tsp oil of choice

1 medium head of cabbage
Toppings:
Chipotle Aioli:
1 cup vegan mayo

1 chipotle pepper (from a can of chipotle in adobo), plus ½ tbs of adobo sauce

1 tsp garlic powder

1 tsp nutritional yeast

Pinch of salt
Directions:
In a bowl, mash drained beans until they are mostly broken down.  You want some of the beans to be in-tact, but most of the beans should be mashed at least a little bit.  I prefer to use a potato masher, but a fork works well too.  Once the beans are mashed, add in the spices, corn and quinoa and mix until everything comes together.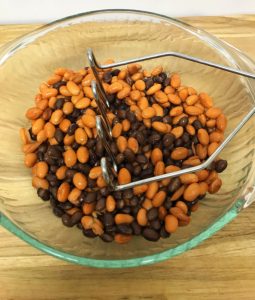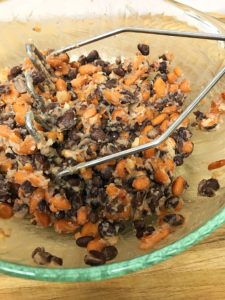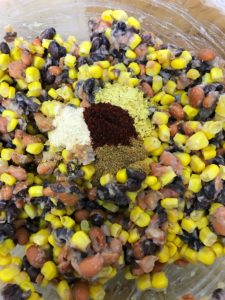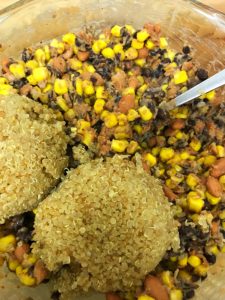 Dice your onion and peppers and set aside.  Add your oil to a large skillet and bring to medium heat.  Once the oil is hot, add your onion and cook until they begin to look translucent.  Next, add your peppers and cook until everything is tender and begins to have some brown marks on it.  Once the onion and peppers are ready, crank the heat up to high and add the bean/corn/quinoa mixture to the skillet.  You want to warm everything through, but you also want to add a little crispiness to the mixture.  I like to cook everything on high heat for about 7-10 minutes.  Making sure to scrape down all the little crispies at the bottom of the pan as the filling cooks.  This gives the filling great flavor and texture.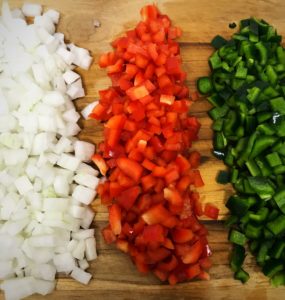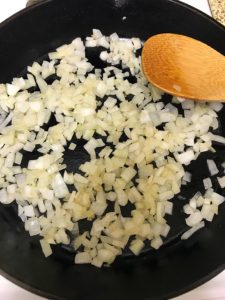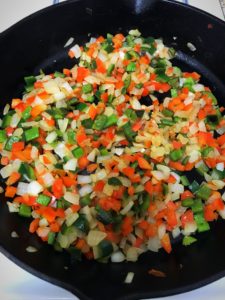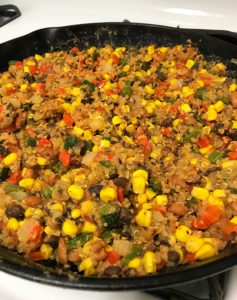 While the filling finishes on the stove, make your chipotle aioli.  Simply take all of the aioli ingredients and bend them together in a blender until smooth.  Once the filling and the chipotle aioli are done, time to assemble.  Separate the leaves of a head of cabbage and set them up on your plate.  Add the filling and top with avocado, tomatoes and a drizzle of the aioli.  Enjoy immediately or store the filling in the fridge for up to 5 days.