Sometimes you just need a quick and easy meal.  Nothing too fussy, and certainly nothing that will leave your kitchen looking like a tornado hit it.  I mean, am I right?
Maybe you had a hectic weekday and just need something quick and flavorful to make your day a little easier.  Or maybe you're just having a lazy weekend day and need something that takes as little effort as possible (this is more often the case for weekend Wini).  When I'm feeling bleh about cooking (hey, it happens to all of us) I tend to grab a bowl and fill it with veggies and grains and call it good.
Out of all of the bowls in my recipe arsenal, I call upon this one the most.  This recipe is not only fuss-free, but it's jam-packed with flavor.    My burrito bowl has it all: fresh and grilled veggies, hearty beans, filling rice, and creamy guacamole.  I can't imagine anything better.  It's really no wonder this dish is such a hit in the Smith house.  Bonus points: serve this bowl with some tortilla chips and take it to the next level.  Yum!!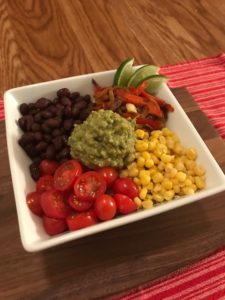 Servings: 4
Ingredients:
1 1/2 cups brown rice*
3 cups of veggie broth or water (I HIGHLY recommend using the broth)
5 cups of chopped romaine, or other lettuce/greens of your choice
1 can of your favorite beans, drained and rinsed (I used black beans this time)
1 can of corn, drained and rinsed
cherry tomatoes, cut in half
2 tsp oil of choice
1 red bell pepper, julienned (fancy way of saying "cut into strips")
1 yellow or white onion, sliced
1/4 tsp chili powder
1/4 tsp cumin
1/4 tsp garlic powder
Diced avocado or guacamole (try my super easy guacamole recipe)
Directions:
Cook brown rice in broth or water according to package directions.  While your rice is cooking, sauté onion in oil on medium heat until it begin to look transparent.  Once onions are soft and transparent, add bell pepper along with the spices spices and cook until peppers are browned and spices are fragrant.  Once peppers are cooked, remove from heat and set them to the side.  Once rice is cooked allow to cool to room temperature (took my rice about 30 minutes) and mix in your lettuce/greens
To assemble:
Fill the bottom of your bowl with the rice/greens mixture
Top with sautéed veggies, corn, beans and cherry tomatoes
Finish with a dollop of guacamole or diced avocado
Garnish with cilantro leaves and/or lime wedges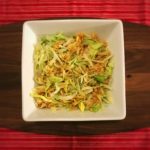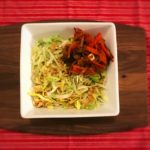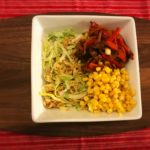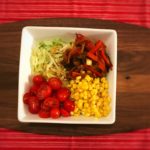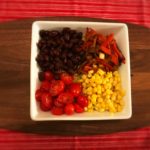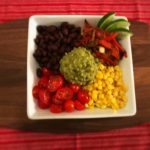 *Instead of rice, try using Spanish Cauliflower Rice