Pesto.  Yes, I'm talkin' 'bout that delicious herby green spread.  So flavorful, so versatile, and now so vegan!
When I think of pesto, I like to imagine all of the foods that shine a little brighter with pesto.  Pesto is great on pizza, sandwiches, pasta, salads, roasted veggies, soups… you get the picture, it's great on pretty much everything!  Before going vegan I would buy pesto all the time and put it on just about anything.  Unfortunately traditional pesto contains parmesan cheese, so I knew I had to figure something else out once I made the switch.  So, I took to the kitchen and messed around with different ingredients until I stumbled upon the wonderful combination of coconut milk fat and nutritional yeast*.  Coconut milk fat is the solid part of a can of full-fat coconut milk.  It's easy to separate, all you have to do is turn the can upside down and refrigerate for 8 hours until the solids and liquid separate.  Drain the liquid and BOOM you have coconut milk fat!  So easy and it makes the pesto so dreamy, you won't even miss the parmesan!
Now, there are a lot of different herbs that can be used as the base to a pesto (cilantro, parsley, kale and chard to name a few), but I have always preferred the classic basil pesto.  So for this recipe, I use mostly fresh basil with some fresh spinach.  The spinach pairs so well with the basil and makes it go a little further (because let's face it, fresh basil can be pricey) without compromising flavor.  It's just a few ingredients thrown in a blender.  Easy and tasty pesto, what can be better than that  😀
*Nutritional Yeast: sounds gross, tastes great.  These little flakes give food a cheesy taste, YUM!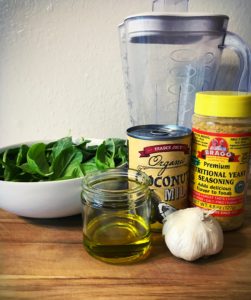 Ingredients:
2c fresh basil leaves
1c fresh spinach leaves
4 cloves of garlic (I LOVE my pesto garlicy, but if you're a little more sensitive to garlic you can scale it back to 2-3 cloves)
1/3c nutritional yeast
1/2c extra virgin olive oil
1/2 tsp pepper
1/2 tsp salt
Separated coconut cream from a can of full-fat coconut milk*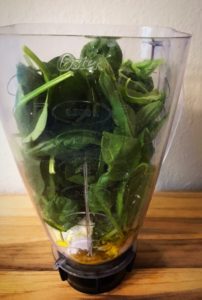 Directions:
Put all of the ingredients into a blender and blend until smooth.  Serve immediately or refrigerate in an air-tight container for up to 10 days.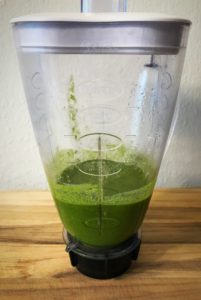 *To get just the cream part of the can of coconut milk, just refrigerate can upside-down for 8 hours.  Once cream is a solid you can open the can from the bottom and separate the water from the cream.