Takeout Chinese food has got to be one of my all-time favorites.  I am a huge fan of any dish with pasta and/or rice; and a typical Chinese restaurant won't make you choose 😀  My favorite dishes to get were always Pork Fried Rice and Chicken Chow Mein.  As a matter of fact, my mom tells me, as a kid I would always ask for Chinese food when she would ask me what I wanted for dinner.  I'm tellin' ya, my love for greasy carbs goes back over three decades (yes, I'm really that old haha).  When I went vegan, however, I thought I had to say good-bye to my comfort favorites for good.
After about 6 months without my favorite take-out, I took to the kitchen figuring out swaps to make a simple and vegan version of fried rice (I started with fried rice because I figured that was easier than lo mein).  Obviously, chicken and pork aren't vegan, but there are also hidden animal products that I didn't know about.  A lot of dishes that you might find at a typical Chinese food restaurant add fish sauce to their dishes (to get that umami taste).  Also, chow/lo mein noodles are wheat noodles with eggs used as a binder (this is actually typical with fresh noodles).  So, I tinkered around and found that if the sauce was tasty, the rest was easy.  I ended up finding a delicious combination of ingredients that kept the umami taste (soy sauce) and added a little heat to make a well-rounded savory sauce.
One thing you might notice is that my fried rice doesn't look like something that comes from a take-out box.  Typically, restaurant fried rice comes with peas, corn, carrots and eggs.  I personally hate peas, and don't think corn belongs in this rice; Brady isn't a fan of the sweetness carrots bring; and eggs aren't vegan.  So, I took them all out and replaced them with hearty and delicious veggies.  Everything is cooked quickly in a large skillet (if you want to get fancy, use a wok) so the veggies still retain some of their bite and beautiful color.  The tofu is pressed and par-cooked before it goes into the wok to ensure crispiness.  Honestly, I really don't like soft tofu…it needs to have texture!
This dish does require a little preparation: you have to make the rice; the tofu has to be pressed and par-cooked; and the veggies have to be chopped.  But, once all that is done the dish comes together in a flash.  I love prepping everything during the weekend, that way I'll have everything in the fridge ready to go for an easy weeknight dinner.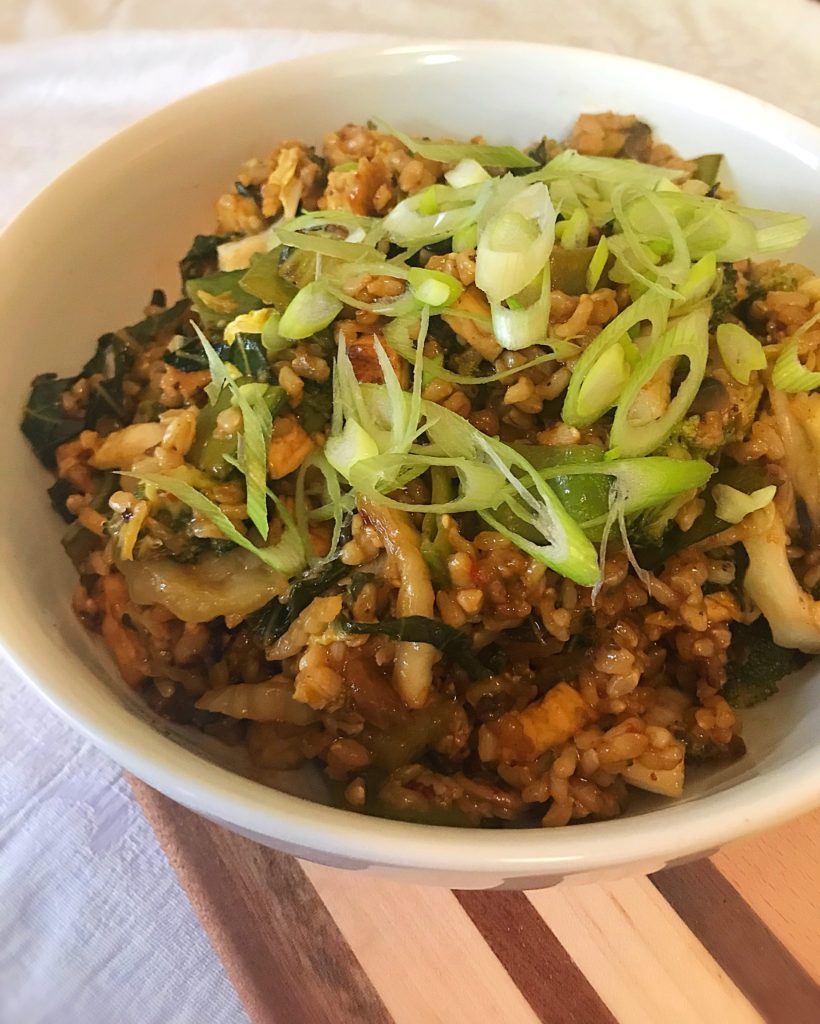 Makes 2-4 servings
Ingredients:
3 tbs light cooking oil of choice
½ of a block of extra-firm tofu- drained, pressed, and cut into small cubes
¾ cup white or yellow onion, diced (about half of a medium onion)
1 heaping cup chopped broccoli florets
1 heaping cup chopped bok choy
1 cup snap peas cut into thirds
1 ½ cups mushrooms, sliced
3 cups shredded cabbage (green is good, but Napa is best), divided
2 cups rice (I use brown, but white rice works well too), cooked in broth*
Sliced green onions for garnish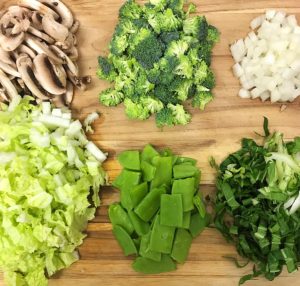 Sauce:
3 tbs low sodium soy sauce
1 tbs chili garlic sauce
1 tsp hoisin
1 tsp rice vinegar
½ tsp garlic powder
½ tsp sesame oil
1/8 tsp liquid smoke (optional, but HIGHLY recommended)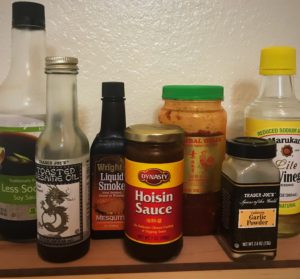 *This recipe also works great with pasta to make more of a lo mein style dish.  Just substitute cook 2-3 servings of store-bought spaghetti noodles (usually vegan, but be sure to double check) for rice.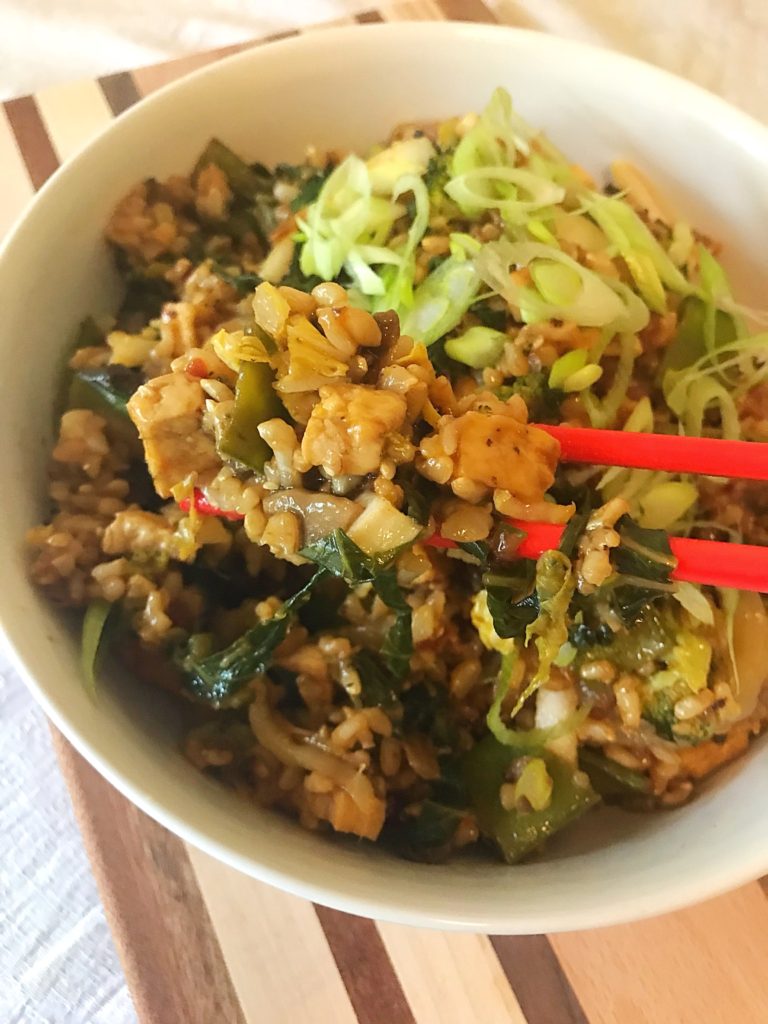 Directions:
Mix all of the sauce ingredients together and set aside (I like to add everything to a small jar and shake it all up).  Preheat oven to 375°F.  Drain and press the tofu until most of the liquid is gone.**  Once the tofu is ready, dice it into small pieces and place on to a parchment lined baking sheet.  Bake the tofu for 15-20 minutes, just until the edges begin to brown.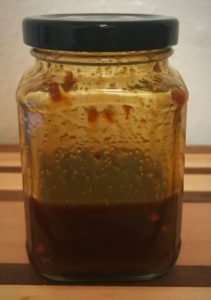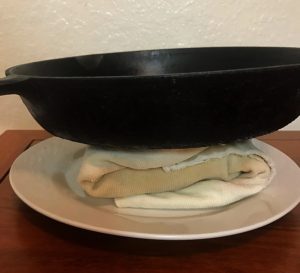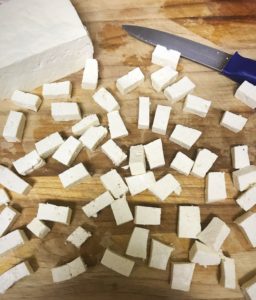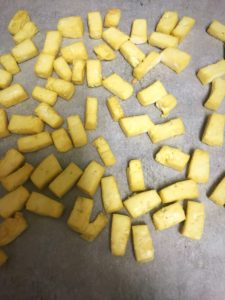 Heat your oil in a large skillet over very high heat.  Once the oil is nice and hot, add the onions and cook until they begin to look translucent.  Next, add the tofu and continue to cook for another minute or so.  Add the broccoli, bok choy, snap peas, mushrooms and 2 cups of the cabbage, separately.  Leave about a minute cook time between each veggie add-in.  This keeps the temperature up and avoids a soggy mess.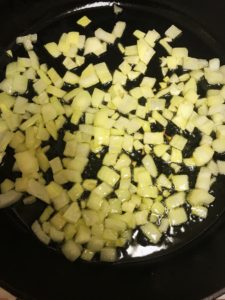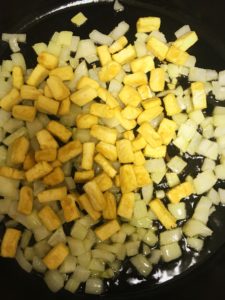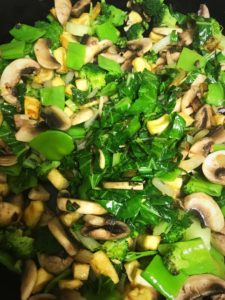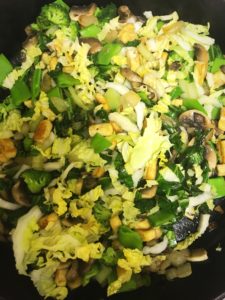 Now that all the veggies are cooked through, add in your rice and sauce and finish cooking for another 7-10 minutes until the sauce is absorbed and everything is cooked and slightly crispy.  At this point, add in the rest of the cabbage and stir.  Let the fried rice sit on the stove for about 5 more minutes to let it cool and give the cabbage a chance to soften a bit.  Serve hot and enjoy 😊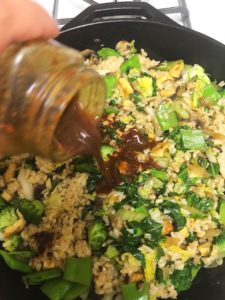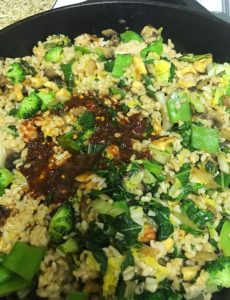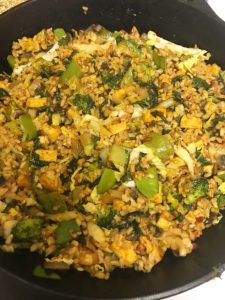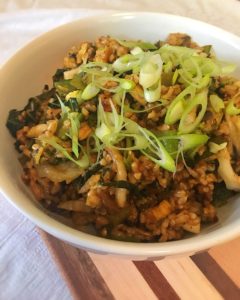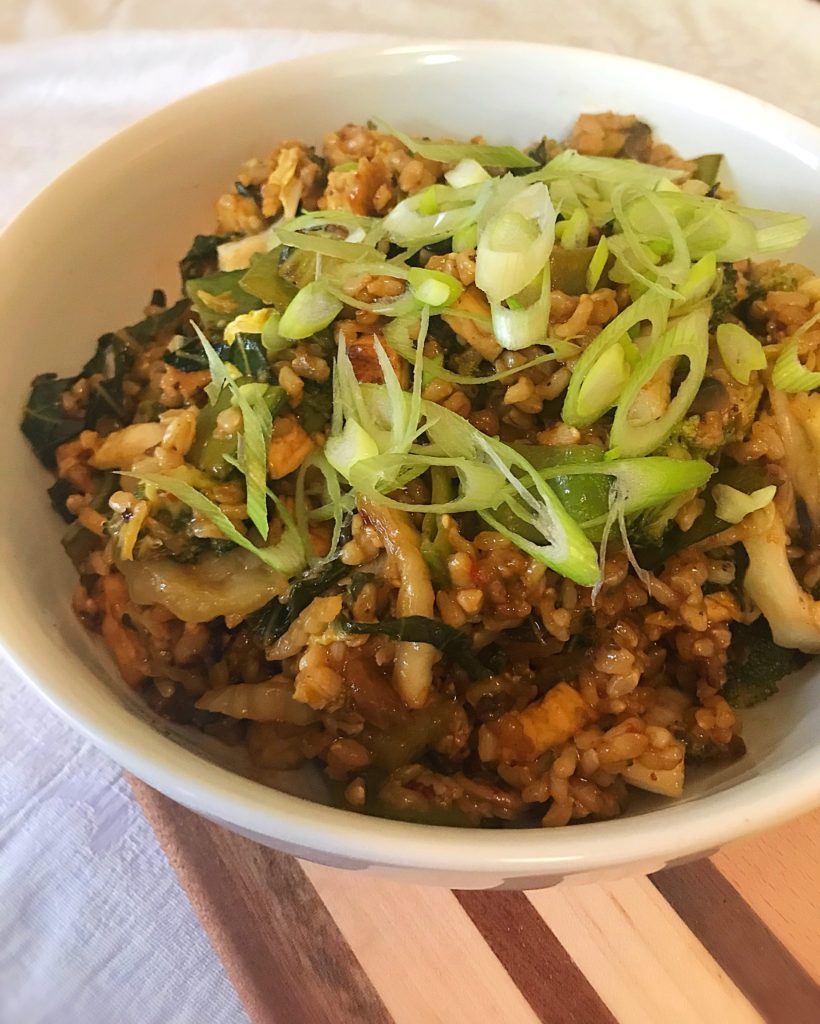 **To drain and press tofu, I just wrap the tofu in a dish towel and place a heavy cast iron pan on top.  I leave it for about 30 minutes and the tofu comes out perfect.  If you want a faster way, you can always buy a tofu press 😊