Avocados are one of those foods that I could (and usually do) eat every day.  They are so creamy and decadent on their own, but when you deep fry them, they are out of this world!  I first discovered deep fried avocados in Las Vegas when we grabbed a quick bite at a local Mexican food place.  Needless to say, my world was ROCKED.  But, really, how could it not be?  I was eating DEEP FRIED AVOCADOS!  I couldn't believe I had gone thirty-something years without it!
When we got home, I went straight to the kitchen and went to work creating the Wini version 😉  It took a few tries but I got the batter nice and thick, the perfect consistency to give the avocados a crunchy outer layer.  The secret to these delicious avocados?  Freezing them before you batter them; this allows the avocados to hold their shape while being dipped into the thick beer batter.  Once they are out of the hot oil, the avocados return to their creamy texture.  Top these tacos with pickled jalapeños, cabbage, cilantro and creamy sriracha sauce to give this dish a tasty Asian twist.  Although they do take a little planning (remembering to stick the avocados in the freezer*) these tacos are so easy to make and will please any crowd.  Enjoy!
* If the grocery store has a great deal on avocados, I like to buy extra to be able to make these tacos any time.  Just slice and freeze, then store the frozen avo slices in a freezer bag.
Makes 16 Tacos
Ingredients:
Tacos:
2 large, barely ripened avocados

1 ¾ cup all-purpose four

1 cup cold light beer of your choice (I used Corona)

1 tsp baking powder

½ tsp cayenne powder

1 tsp salt

squeeze of lime

1 ½- 2 cups of light oil (enough so that there is about ½" of oil in your pan)

Corn tortillas

Green cabbage, shredded

Fresh cilantro, chopped

∼32 slices of

pickled jalapeños 

(I like to have at least 2 slices on each taco)
Creamy Sriracha Sauce:
6 tbs vegan mayo

2 tbs Sriracha

1/2 tsp garlic powder

1/2 tsp fresh lime juice
Directions:
Cut the avocados in half, lengthwise, and remove the pits.  Using a spoon, remove the flesh of the avocados and slice each half into 4 slices.  Place all 18 avocado slices on a baking sheet lined with parchment paper.  Put the avocados in a freezer for 5 hours or overnight.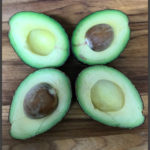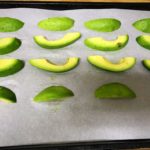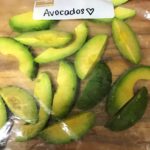 Whisk together the flour, cayenne and salt then slowly add the beer and lime juice until everything is incorporated.  Let the batter chill in the refrigerator for 30 minutes (the batter really works best when it's nice and cold).  Once the batter is close to being chilled, add the oil to your pan and begin to heat it up on medium-high (you want the oil to be about 350°F when its time for the avocados to go in).  Remove the batter and avocados, and place them on the counter right next to your stove.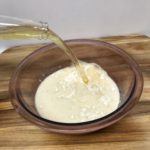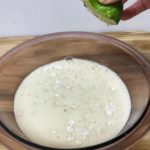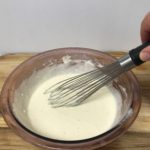 Dip the first avocado slice in the batter and swirl it around until it is fully coated.  Carefully place the coated avocado into the hot oil.  Repeat this process until there are 3-4 avocados in the pan (you really want to avoid overcrowding the pan so the oil stays nice and hot).  Cook for about 3 minutes on each side.  Once each slice is golden brown, transfer to a wire rack to cool.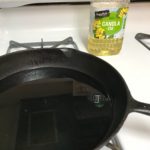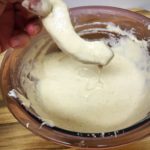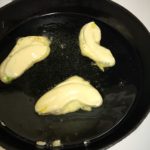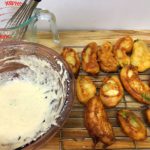 While the avocados cool, warm up your tortillas (I use a tortilla warmer like this one in the microwave).  When I assembly these tacos I usually double up on the tortillas, but 1 works too (it might get a little messy 😉 ).  On top of the tortillas add the avocado, then shredded cabbage and cilantro.  Drizzle the creamy sriracha sauce and top with pickled jalapeños.  Serve hot and enjoy 🙂