Makes 8 burgers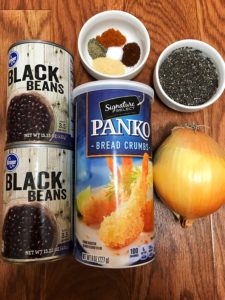 Ingredients:
2 cans of black beans, drained and rinsed
1 chia seed egg (1 tbs chia seeds + 2½ tbs water)
1 white onion, diced
1 cup panko bread crumbs (or any vegan bread cumbs
1 tsp garlic powder
½ tsp cayenne
½ tsp chili powder
½ tsp black pepper
¼ tsp salt
Oil of choice
8 burger buns
Favorite burger toppings
Directions:
Mix together chia seed egg and set aside and allow to thicken.  In a well oiled skillet, caramelize onions over medium heat for about 15 minutes (you really want to get nice color on your onions so they add a deeper flavor to the burgers).  Once the onions and chia seeds are ready, add them to a food processor* along with the black beans, panko and spices.  Pulse the food processor a few times to get things going.  Remove the lid and give it a little mix (just to be sure every bite tastes the same) and then continue to process on low until the mix has come together.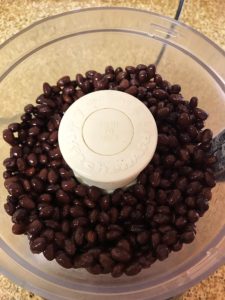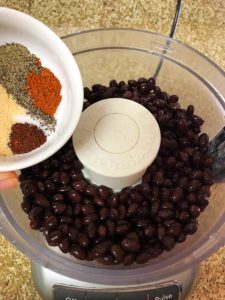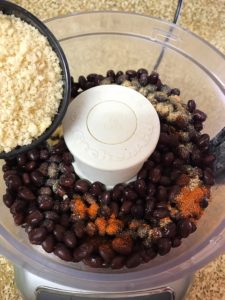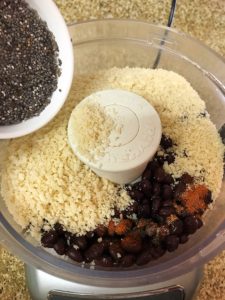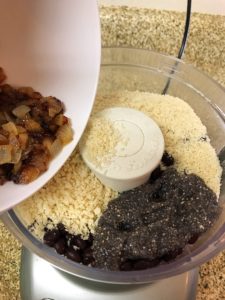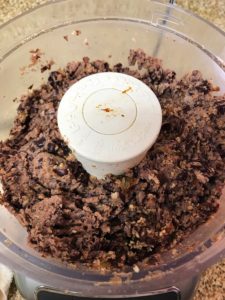 Transfer the mixture from the food processor to a large bowl and allow it to rest, in the refrigerator, for about 30 minutes.  Once it has had a chance to rest, the burgers are ready to be portioned.  With a ​1⁄3 cup scoop, portion out 8 patties (I like to scoop, then roll out the mixture then flatten into patties as I go).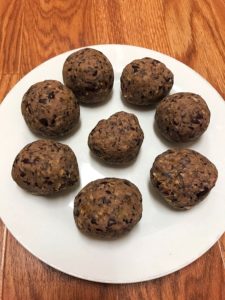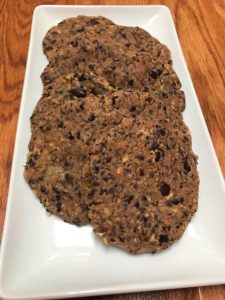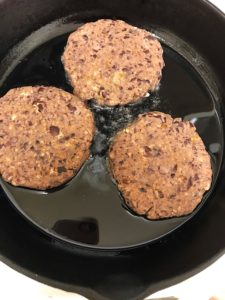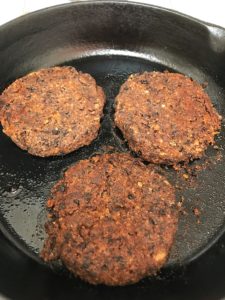 You can cook them now or store them in an airtight container (separate each patty with parchment paper so they don't stick together) for up to 5 days.  When you are ready to cook them there are two methods:
The Quick Way:  Cook patties in a well-oiled skillet over medium-high heat for ~3 minutes, covered. Flip patties and finish cooking uncovered for and other ~3 minutes.  Allow patties to cool completely before assembling burgers.
The Best Way:  Preheat oven to 375º Cook patties on the first side, uncovered, in a well-oiled skillet (a skillet that can go in the oven, preferably cast iron) over medium heat for 5 minutes.  Flip the patties and cook for 3 minutes.  After 3 minutes, place the skillet in the oven to finish cooking for 10 more minutes.  Allow patties to cool completely before assembling burgers.
When your patties are done, assemble the burgers with your favorite toppings.  I love mine on soft buns with avocado, mustard, tomatoes, sprouts and a little bit of vegan mayo 🙂
*If you do not have a food processor, mash the black beans with a potato masher (or fork) and then mix the rest of the ingredients until everything is well incorporated.