I've pretty much always loved summer, but moving to the Midwest made me truly appreciate the summer months.  During my short stint as a Sconnie*, I came to realize there are two modes of life in the Midwest: winter, and not winter.  It might sound silly, but when winter weather lasts almost 6 months you really take advantage of every moment during the "not winter" months.
Luckily, I've since moved to sunny Southern California where it's pretty much summer year-round.  But that doesn't mean I take it for granted; I still very much look forward to summer.  I love everything about summer: frozen cocktails, lounging by the pool, and fun summer outfits.  The best thing, however, is the summer food!  Fresh produce is at it's peak tastiness during the summer, YUM!
Makes 12 popsicles
Ingredients:
3- 5.3 oz containers of raspberry coconut yogurt (I LOVE this brand)
10 oz fresh strawberries (or frozen ones that have been thawed)
2 very ripe bananas, frozen
½ cup unsweetened vanilla almond milk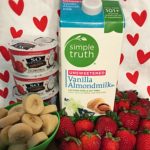 Directions:
Place everything in a blender and blend until smooth.  Carefully pour mixture into popsicle molds and store in the freezer overnight.  When the pops are solid, run the molds under warm water to loosen them and enjoy!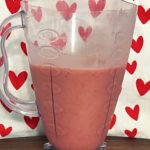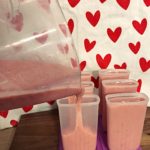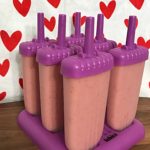 No popsicle molds?  Don't worry!  Just pour the mix into a food container, press plastic wrap over the top layer (to keep it from getting icy on top), seal with a lid and freeze.  When it's done you can scoop it out with an ice cream scoop.